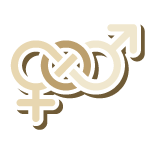 Sexual Health
The Team goal is to improve sexual health knowledge, attitudes, and behaviors across the Florida State University campus through policy and programmatic efforts. Membership is open to any faculty, staff, or student. Have questions? Contact the committee chair, Kelly Grove.
Meeting Times
Fall 2018
Meeting dates coming soon
Committee Composition
The Sexual Health team is made up of FSU faculty, staff, students, and community members who are passionate about the sexual health of FSU students. We are always seeking additional voices in our committee to help make Florida State University a healthier university.
Goals & Objectives
All goals and objectives are based on the 2017 NCHA (National College Health Assessment).
Testicular Cancer


Problem


Half of all testicular cancers occur in men between the ages of 20 and 34.
23% of FSU males reported performing a testicular self-exam in the last 30 days

Tactics


"Grab Your Gonads" promotion

Condom use and STI testing


Problem


% of sexually active FSU students who reported using a condom within the last 30 days (mostly or always)

Oral: 7%
Vaginal: 48%
Anal: 27%

Had unprotected sex due to drinking alcohol: 34%
Tested for HIV: 25%

Tactics


Pull-in presentations
Increase condom distribution
Fast track STI clinic creation
STI testing event with Phi Beta Sigma
Condom Bingo during Seminole Sensation Week
Community Block Party
Ask the Sexpert
Sex in the Dark

Consent


Problem: % of FSU students who reported experiencing the following in the last 12 months


Sexual touching without their consent: 11%
Sexual penetration attempt without their consent: 4%
Sexual penetration without their consent: 2%

Tactics


Pull-in presentations
Event on Objectification

Inclusion


FSU has a diverse student body and we want our programming to be diverse and inclusive
Tactics: Have events specifically designed to reach the following groups


LGBTQIA+ students (12% of FSU)
Black students (8% of FSU)
Hispanic students (18% of FSU)
Socially conservative students
Socially liberal students
Differently Abled students (estimated at 20%)
Present Initiatives
Real Talk Real Sex: A sex positive workshop series influenced by student voices. Past workshops included: The Art of Foreplay, 50 Shades of Noles (a workshop on BDSM and Consent), The Anatomy of Pleasure, Decoding Desire, Faith & Sexuality, and Sex and the Spectrum: Queer Sex Ed
Drag Condom Bingo. This program is a partnership with Pride Student Union and not your typical bingo. A drag queen hosts and participants find the answers to various LGBT and safer questions on their bingo cards
Condom Distribution for RAs in residence life
Partnership with Big Bend Cares and Pride Student Union to provide free rapid HIV testing twice a month in the Olgesby Student Union
Past Initiatives
Expanding condom distribution locations on campus. Previous location was just in Health Promotion and the Health and Wellness Center. Expansion now includes the Student Life Cinema, Dirac Library, Strozier Library, Olgesby Student Union, Pride Student Union, and Women Student Union
Championing for funding from Student Government Association to maintain free rapid HIV testing
Data Driving our Work
According to the CDC, half of all new sexually transmitted diseases occur among young people aged 15 to 24 years.
Leon County was ranked 1st for the rates of Chlamydia, Syphilis, and Gonorrhea in 2017
Leon County was ranked 8th for the rates of new HIV infection in 2017
NCHA data (see Goals and Objectives for specific data points)
title-inside title-centered
2